Who We Are
At Surrey Place, we help people with developmental disabilities and complex needs reach their full potential
Surrey Place serves people of all ages with developmental disabilities and autism spectrum disorder. In each of these cases, we work with people who have varying and sometimes complex needs. To meet our clients' needs, we take a community and family-based approach to establish solutions that work, and together, we create responsive and innovative plans of care. In these plans, we include families, support networks, and other service providers, to be part of a caring circle of support, teaching skills and helping them learn to advocate and navigate through care.
Compassionate, committed clinicians and therapists make a difference in the journeys of the people we serve. Approaching all we do with respect; Surrey Place seeks to understand and accept differences in a professional and caring manner. Surrey Place meets the needs of people, providing responsive, evidence-based assessments and treatments. Our expertise combined with our approach enables our clients to reimagine their potential, reach their goals, and experience meaningful change.
As a leader in the field, we drive systemic change by facilitating transformation and embracing the future. We collaborate with partners and organizations in many disciplines to share knowledge and tools, improve access to services, and set standards. We conduct research and train the experts of the future.
Located across the Toronto region, our five locations offer a welcoming, inclusive, and safe space where community is nourished and sustained. With over 450 staff, we are often the first point of contact for many. As the lead agency for Developmental Services Ontario Toronto Region and as a partner of Toronto Autism Services Network we are a core component of service delivery in our community and across the province.
Mission, Vision, Values
At Surrey Place, we follow these principles to ensure that we deliver high quality, consistent programming across our organization
Our Impacts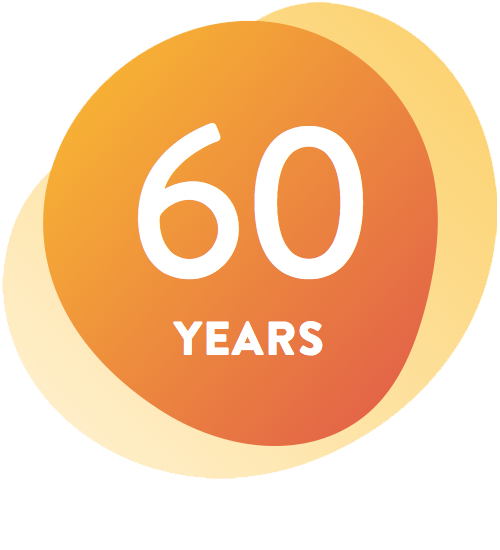 60 Years in Service
Support Across the Lifespan
10,000+ Clients Served Annually
5 Locations in Toronto
Our History
Surrey Place has a history of advancing new approaches to serve people with developmental disabilities. Over the years, we have laid the foundation in an evolving sector. Today, we serve over 10,000 clients, families and caregivers, professionals and organizations annually from our five satellite locations in Toronto. We are proud to have maintained our commitment to the health and well-being of our clients and communities for 59 years.
1960s
In 1962, the University of Toronto's Department of Psychiatry establishes a community clinic to provide assessment and diagnosis for individuals with developmental disabilities. 
1960s
The community clinic moves to our current head office location at 2 Surrey Place in 1966. The new clinic is named the Mental Retardation Centre.   
1970s
Additional disciplines are introduced in 1971 including education, occupational therapy, audiology, speech pathology and genetics in addition to psychiatry, psychology, nursing and social work.   
1970s
The Centre successfully moves away from outdated language and ideas about developmental disabilities, demonstrating leadership and an investment in emerging voices and research. 
1970s
The Mental Retardation Centre is renamed Surrey Place Centre in 1974. 
1970s
Surrey Place Centre is the first organization in Canada to introduce behavioural therapy services. 
1970s
Ontario's first early intervention service for infants with developmental delays is launched at 2 Surrey Place.  
1980s –
Ontario Government's Commitment
1980s
The Parenting Enhancement Program launches, providing parents with developmental disabilities with skills training. 
1980s
The provincial government divests the organization's services and a community board and foundation assume responsibility in 1987. 
1980s
Surrey Place Centre establishes a clinic for people with Down syndrome to screen for medical complications over the life span, the first of its kind in Canada. 
1990s –
Quality of Life Conference
1990s
Surrey Place Centre is a lead organization on the International Family Quality of Life Project, examining the lived experiences of families with member(s) with an intellectual or developmental disability in collaboration with researchers from Australia, Israel and Canada. 
2000s 
New services are introduced to support additional diagnoses including the Behavioural Medical Assessment of Complex Kids & their Environment Clinic (BMACKE), and two clinics for fetal alcohol spectrum disorder (FASD) diagnosis and assessment for children and adults.  
2000s 
Mashkikiiwininiwag Mazinaatesijigan Wichiiwewin (MMW) Video Conferencing Program is introduced to serve clients in Northern Ontario communities. 
2000s 
The inaugural Toronto Partnership for Autism Services is formed with Surrey Place Centre, Adventure Place, Aisling Discoveries Child and Family Centre, the Etobicoke Children's Centre, and Geneva Centre for Autism. 
2000s 
Surrey Place Centre establishes the Family Practice Clinic with St. Michael's Hospital. 
2000s 
Dr. Bill Sullivan creates the first Consensus Guidelines for the primary healthcare of adults. 
2000s 
Surrey Place Centre is appointed a Toronto region representative for two provincial programs, Assistive Devices Program and Connections for Students, leading to the inception of Augmentative Communication and Writing Aids (ACWA) and the School Support Program. 
2010s –
Service Integrations & Partnerships
2010s
Surrey Place Centre is appointed the administrative representative for Developmental Services Ontario Toronto Region (DSO Toronto Region) in 2011. DSO Toronto Region makes it easier for adults with developmental disabilities and their families to apply for services and supports.  
2010s
Surrey Place Centre becomes co-lead in Toronto Autism ABA Services in partnership with Adventure Place, Aisling Discoveries Child and Family Centre, The Etobicoke Children's Centre and Kerry's Place Autism Services. 
2010s
Surrey Place Centre integrates the Ontario Foundation for Visually Impaired Children (OFVIC) into its operations in 2012, including assuming OFVIC's Training and Development Centre for the Blind-Low Early Intervention Program across Ontario. 
2010s
In 2013, Thistletown Regional Centre TRE-ADD program officially transfers to Surrey Place Centre. 
2010s
Partners with The Hospital for Sick Children, Circle 21 and the Sick Kids Foundation in 2014 to establish the SickKids Down Syndrome Clinic, a program that provides children ages 0-4 with a diagnosis of Down Syndrome with access to information and services. 
2010s
Partners with Conseil scolaire Viamonde and Conseil scolaire de district Catholique Centre-Sud to create French Language Service. 
2010s
The Applied Behaviour Analysis (ABA) Psychiatric Clinic is launched in 2015. The Enhanced Clinic Service model is introduced in 2016 to improve access and responsiveness to client needs. 
2010s
In 2016, Surrey Place partners with Developmental Services Ontario Toronto Region, the City of Toronto, Inner City Family Health Centre and Community Living Toronto to establish permanent housing for 25 homeless men with developmental disabilities. 
2010s
Establishes formal partnership in behaviour therapy with Sick Kids Hospital, Griffin Centre and East Metro Youth Services in 2016 
2010s
The Infancy & Early Childhood program establishes a Behavioural Consultation Clinic and a Family Counseling Clinic 
2010s
The Mobile Adult Psychiatric Team launches in January 2016 to go into communities and assess and support individuals with intellectual disabilities who are aging and experiencing mental health challenges. 
2010s
Surrey Place Centre launches a new brand identity and changes its name to Surrey Place in 2018. The new brand represents the organization's growth and continued commitment to serve clients in an accessible and welcoming manner. 
2010s
The Developmental Disabilities Primary Care Program launches with dedicated annualized funding to update practice guidelines and tools, and to build capacity to care for people with intellectual and developmental disabilities. 
2010s
With assistance from Women's Xchange 15k Challenge grant, Surrey Place conducts an intervention study in 2019 for mothers with intellectual and developmental disabilities, surveying screening rates for both cervical and breast cancer. The study contributes to studies used by leading research bodies in Canada and internationally. 
2020s
In 2020, Surrey Place began working with Ontario Health Teams to create new partnerships and build a health care system that fully supports people with developmental disabilities in the hospital and community by sharing strategies and knowledge about their unique needs. 
2020s
Surrey Place launches the Transitions Team in 2020 to support complex life transitions through customizable, interdisciplinary paid services. It's designed to help external agencies support individuals with developmental disabilities transition and their families and caregivers. . 
2020s
In 2021, the new Toronto Autism Services Network launches in partnership with Surrey Place, Geneva Centre for Autism, Holland Bloorview Kids Rehabilitation Hospital, Kerry's Place Autism Services, Lumenus Community Services, Strides Toronto and SAAAC Autism Centre.